The Epistemology Express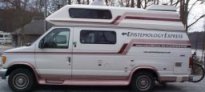 was this vehicle and my personal odyssey with it from 2001 to 2003. It was a wonderful and stimulating time whether at the many universities visited or at the RV parks. Since May of 2004 the new owners of the Express, Bill and Susan (below right inset), are continuing counterclockwise around North America with the Epistemology Express vehicle.
I, Jake (below left) now live and work at the Esalen Institute on the central coast of California. Guesses for the meaning of "Epistemology" ranged from the study of bugs, the scriptures, meaning of words, name of a cult, medical work on women

to preaching and beyond. The intent, however, and the usual meaning are the philosophical study of the nature of knowledge. The quest involved researching and networking with all those interested in how the fundamental conception of knowledge is shifting.
Nowadays, I try to sail out around the changing tides of our rapidly adapting mental ecology by writing without driving. My excitement for how the realization of deep biological roots into our most cherished fundamental beliefs such as knowledge, reality, morality, communication and economics as ecology remains unabated. See the Circles or the Site Map sections of the website for writings and letters done since the Epistemology Express chapter ended. The older website remains embedded here below in The Road Trip, the Writings from the E.E., and Introduction to the E.E. (Mid 2004)