A non-dualistic epistemology or bust. . .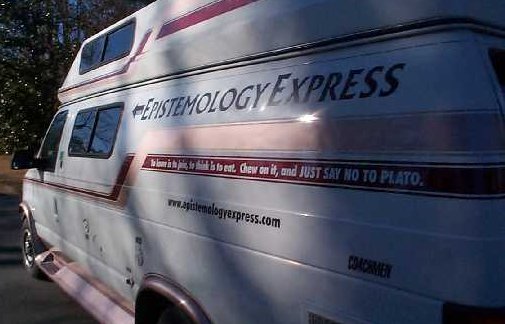 To know is to join, to think is to eat. Chew on it, and JUST SAY NO TO PLATO
The Road Trip

The Epistemology Express above and I (Jake Patrick Keenan - see bio section) left Tallahassee January 2, 2001 to head around the U.S. and Canada for a trip to various campuses, cities, and private institutes to seek any and all interested in the epistemological question and its relevance to other social concerns. Almost two years later the possibilities only seem to grow. The year 2002 has been slow on road mileage as it has been a year to regroup--both time to write in Marin County, California and a return to Boston for a short employment. As the E. Express gets dusted off for the road again the goal will hopefully shift. It began as an initial networking angle, but now my goals have expanded to raising the issues of change more forcefully and to seeking others with whom to work together.

This Section:

The year 2003 began with trips--to D.C. for Christmas, to Colombia on a sailing cruise with friends, along the coast of California with my ex--and only in March am I ready to resume philosophy on the campus circuit. Hopefully, the time has helped to improve this work.

In a have-conversation-will-travel frame of mind I certainly look forward to both learning and promoting what I think is a very important question. The initial motivation remains to overcome my working in isolation and to develop and widen an epistemological dialogue as much as possible. If you have suggestions, please send them to me even though I can't promise to respond. Hey, epistemologists just gotta have fun....

In the year 2000 after a decade of attempts at writing (leaving out earlier peregrinations) and two years after coming to Tallahassee, Florida to "ground myself" in a personal life near my roots, I decided that I needed to move out a bit to elicit contacts with others working on similar themes in epistemology and its repercussions. Thinking of an extended road trip to several universities in the Southeastern US led me to think of a vehicle in which to do the road trip and to think of places, institutions and people farther afield. Surely an appropriate vehicle such as a van or a small RV needed a name and Epistemology Express came quickly and happily to mind. Since its point of conception in the summer of 2000 the road trip has mushroomed into a full blown lifestyle of which this website was an obvious accessory.

All of you.